Thinking about buying a Year 12 Chemistry textbook?
With the recent introduction of the new HSC Chemistry syllabus, there aren't many Year 12 Chemistry textbooks available to choose from. And since they can only be used for one year, buying a textbook can be an incredible investment.
In this article, I've included the most popular textbooks and additional resources I have used to study for HSC Chemistry.
Year 12 Chemistry textbook review
The two most popular Year 12 Chemistry textbooks used by many schools in New South Wales are:
Summary
The table below gives a quick comparison of these two Year 12 Chemistry textbooks. I have rated them from 1 to 5 (where 1 represents poor and 5 represents excellent) along with some comments below.
| | | |
| --- | --- | --- |
| Feature | Chemistry in Focus (2018) | Pearson Chemistry (2019) |
| Cost | $79.95 | $83.95 |
| Weight | 1.4 kg |  1.5 kg |
| Content | | |
| Scientific skills | ★★★★☆ | ★★☆☆☆ |
| Question volume and variety | ★★★☆☆ | ★★★★☆ |
| Practice exam papers | No | No |
| Online version | Yes | Yes |
Cost
The cost of a textbook is undoubtedly one of the biggest factors which influences your decision on whether or not to purchase it.
Both textbooks are similar in price with Chemistry in Focus only $4.00 cheaper than Pearson Chemistry, priced at $79.95 in comparison to $83.95.
Weight
Similarly, the weight of a textbook is an important factor for consideration. Both textbooks are quite heavy, with Chemistry in Focus weighing in at 1.4 kg and Pearson Chemistry at 1.5 kg.
At only 1.25 kg, my 2019 MacBook Air is lighter than both Chemistry in Focus and Pearson Chemistry!
Carrying around a hardcopy of a textbook for each subject can take a huge physical strain especially when travelling to and from school. So, it is great that they both come with online versions of the textbooks!
Content
The table below compares the content of the three textbooks in terms of clarity, depth and structure.
| | | |
| --- | --- | --- |
| | Chemistry in Focus | Pearson Chemistry |
| Clarity | ★★★★☆ | ★★★☆☆ |
| Depth | ★★★☆☆ | ★★☆☆☆ |
| Structure | ★★★☆☆ | ★★★☆☆ |
Structure
Both textbooks are syllabus compliant, with each chapter addressing a syllabus content block in a logical order. However, I found that learning the content in this order is not necessarily the best approach. Due to the interconnected nature of the chemistry concepts and the structure of the textbooks, I found myself constantly looking back and forth between different chapters.
A sample of the contents page of Pearson Chemistry textbook is shown below.

Clarity and depth
In terms of clarity, the language used in both textbooks is clear and accessible. In comparison to Pearson, I found that Chemistry in Focus tends to give a more detailed explanation of each chemistry concept and leaves fewer questions left unanswered.
On the other hand, Pearson Chemistry provides you with a larger volume of supplementary information to contextualise the concepts you are learning. However, while Pearson Chemistry differentiates their extension material from the main content through their formatting, this is not the case for Chemistry in Focus. This lack of distinction is a major setback for Chemistry in Focus as it left me unsure about what information is required and what is beyond the scope of the syllabus.
If you are a visual learner, you may prefer the Pearson Chemistry over Chemistry in Focus.
While both textbooks have their fair share of diagrams and visual aids, the Pearson Chemistry outperforms Chemistry in Focus in this category. Not only does the Pearson Chemistry have more diagrams which effectively complement the text, but it also presents the content in a greater variety of formats such as tables and flowcharts. This results in a more visually appealing and engaging read with fewer instances of those ominous walls of text.
An example of the visual aids found in Pearson Chemistry is shown below.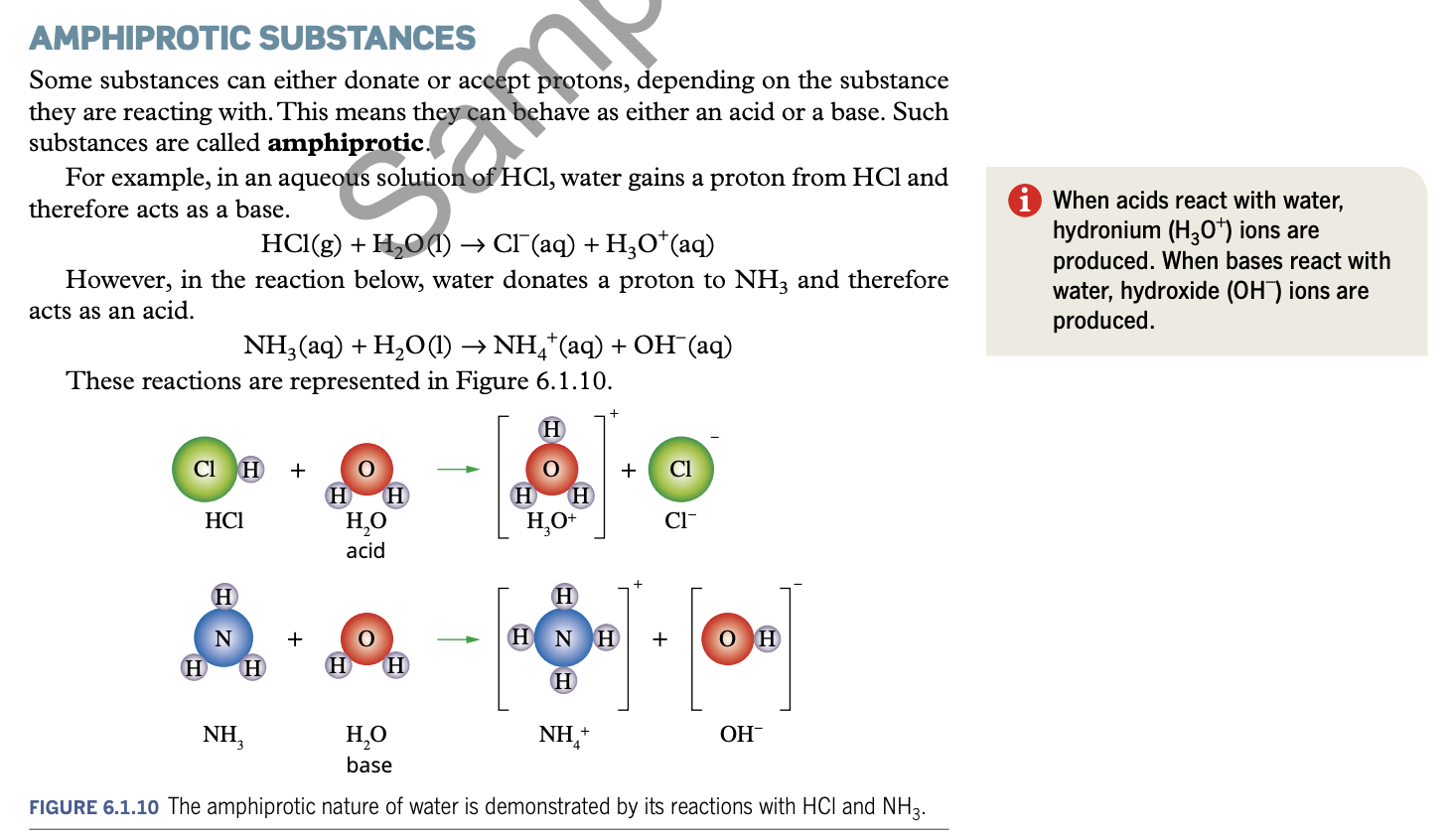 Scientific investigations
If you are looking for a textbook with a strong emphasis on practicals, then Chemistry in Focus is the one for you.
Although both textbooks have a dedicated chapter addressing the working scientifically skills, Chemistry in Focus is the only textbook which provides a comprehensive guide on depth studies. Furthermore, the practical investigations presented in Chemistry in Focus are more detailed and syllabus specific in comparison to the practicals found in the Pearson Chemistry.
A sample practical investigation from Chemistry in Focus is shown below.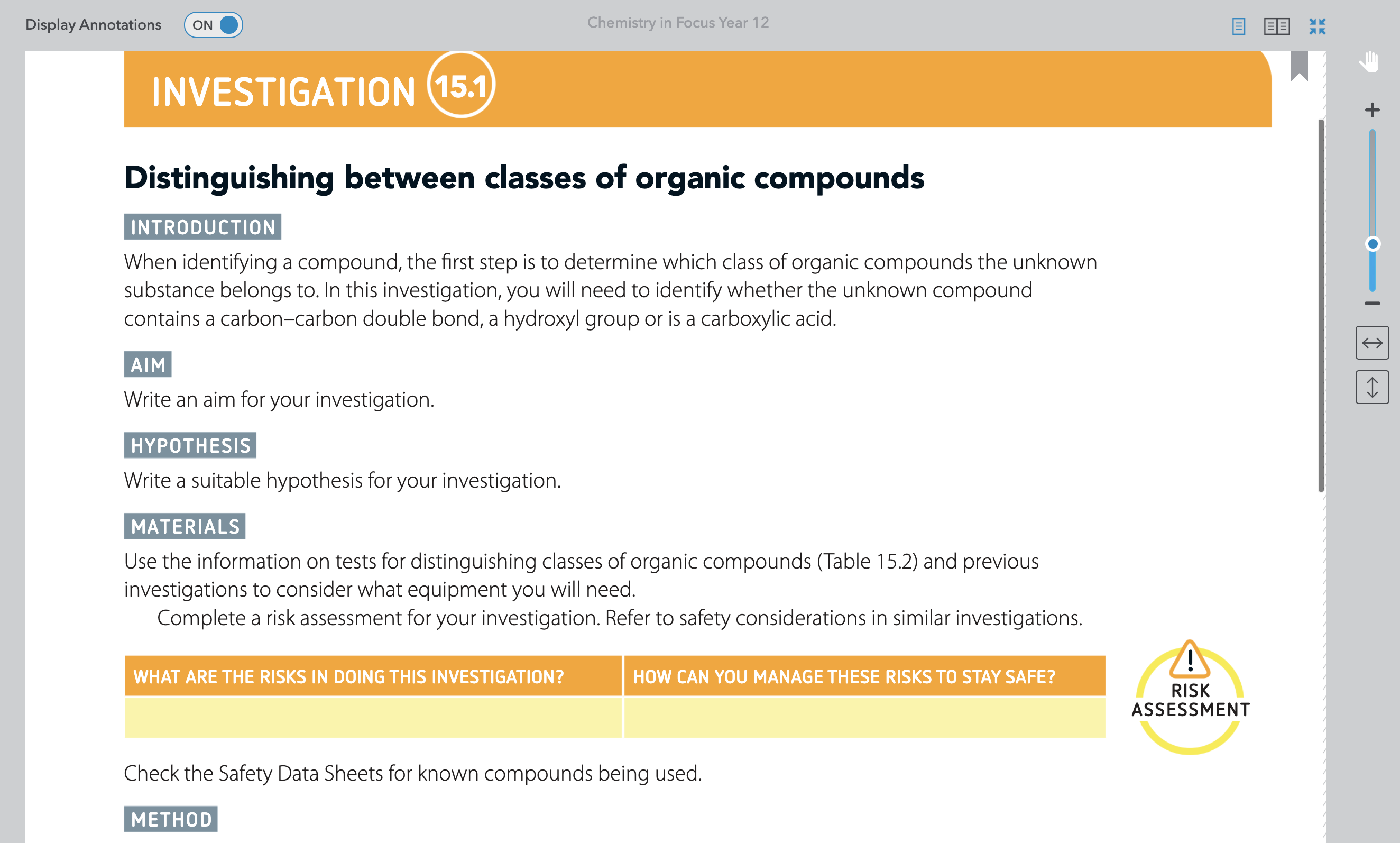 Questions
Volume and variety
A textbook should not only provide you with specific and structured content, but also a large variety of questions to help you consolidate your learning and assess your depth of understanding.
In both textbooks, the questions are dispersed throughout the content, with a variety of worked examples and review questions at the:
Subchapter level
Chapter level
Module level
Despite this structure, I noticed that Pearson Chemistry provides a greater volume of questions than Chemistry in Focus.
Sample chapter review questions from Chemistry in Focus and Pearson Chemistry are shown below.
Chemistry in Focus: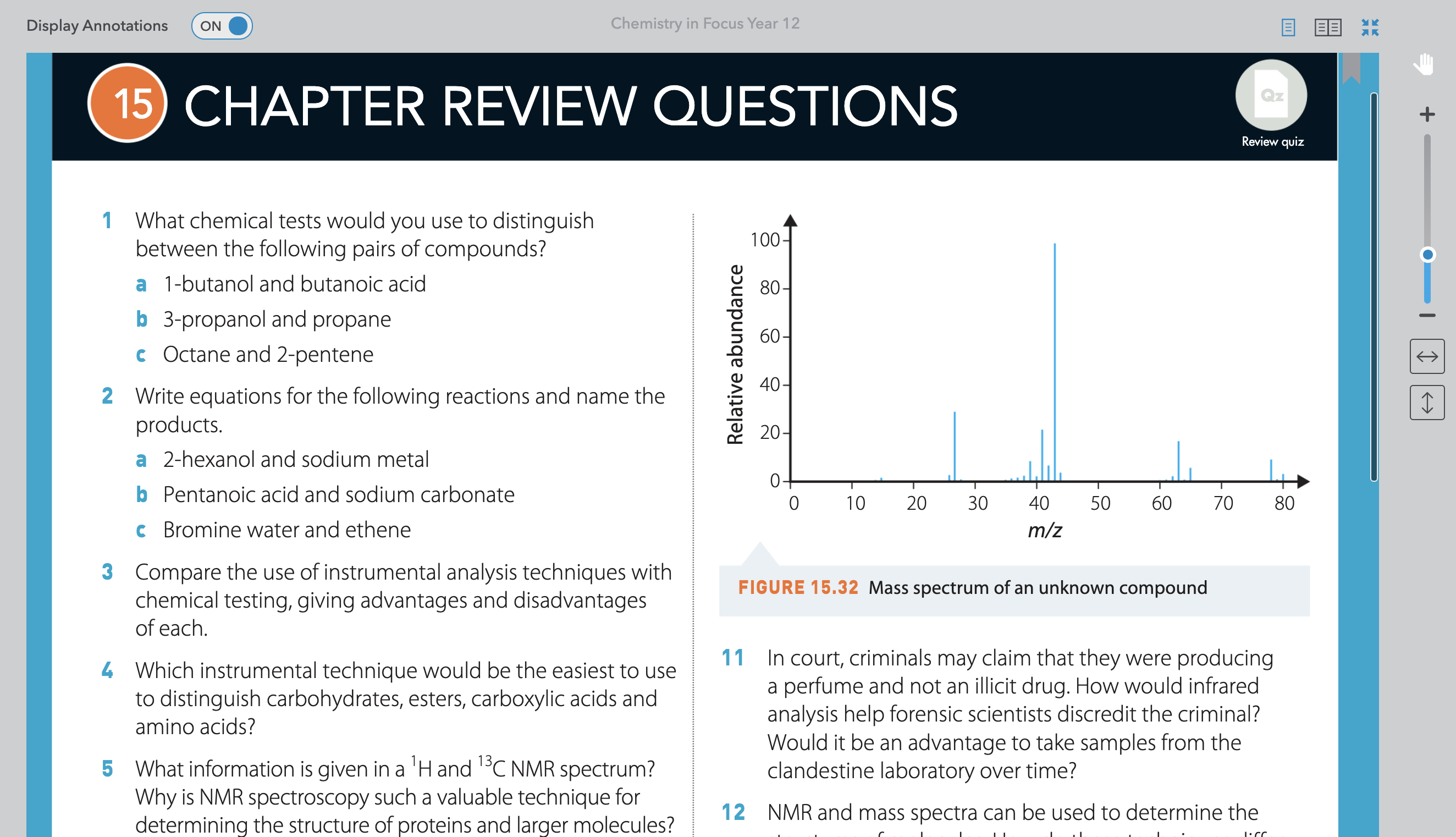 Pearson Chemistry: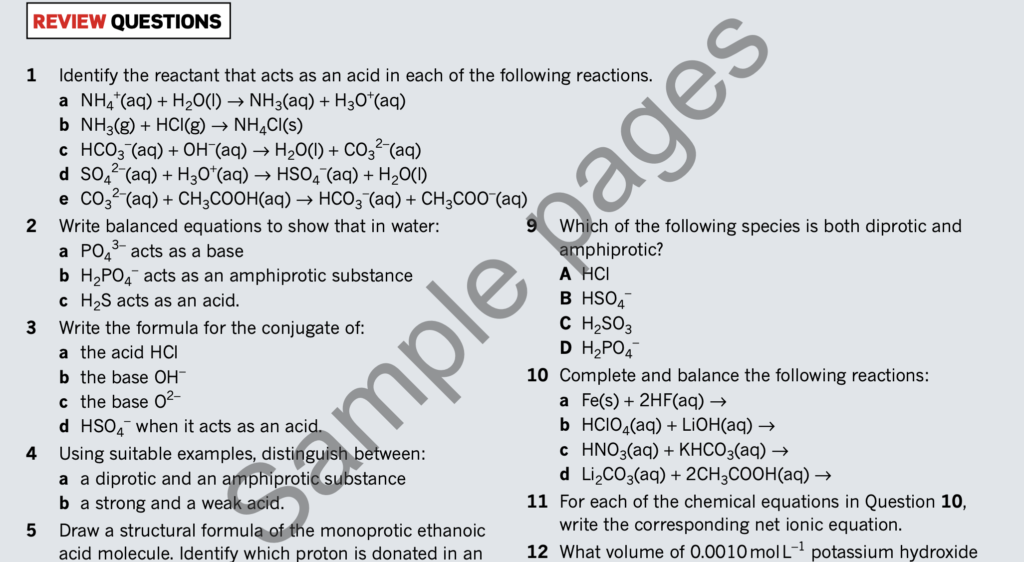 Solutions
What's more important than completing practice questions is the ability to check your answers. After all, how do you know whether or not your written responses are correct?
On numerous occasions, I would complete a set of textbook questions only to find out that there were no answers! It was extremely frustrating and felt like a waste of time.
Therefore, the quality of the provided answers is an equally important criterion in my assessment of the textbooks.
Overall, the Pearson Chemistry provides a higher quality of answers. Of the two textbooks, Pearson Chemistry provides substantially more sample answers for extended response questions and solutions to all questions. In comparison, Chemistry in Focus only contains brief answers to selected questions.
Therefore, in regards to my learning from practice questions, the Pearson Chemistry is better than Chemistry in Focus.
However, there are some limitations common to both textbooks.
Only numerical answers are provided for calculation questions with no detailed solutions.
There are no marks associated with the questions to give an indication of the expected length of responses.
Additionally, both textbooks contain no practice exam papers and requires you to either purchase their supplementary resources or new resources all together.
Accessibility
The best textbooks are those which are versatile and easily accessible regardless of where you are. So, carrying a heavy textbook while traversing between home, school and libraries is not ideal.
Luckily, both textbooks provide you with an online version, allowing you to access their contents anywhere. However, the digital platforms these textbooks are presented on are frustrating to use. Without internal links or the ability to scroll continuously, I found that it was very difficult to quickly locate the information I was looking for.
My preference
Taking into consideration how each textbook can be used to supplement my studies, if I had to choose one Year 12 Chemistry textbook, I would choose Chemistry in Focus.
However, everyone will choose differently and it is important to choose a textbook that suits your learning needs!
Other additional resources I used in Year 12
In addition to the textbooks, I used other online resources such as Chemguide, LibreText and Learnable to fill the gaps. This was because textbooks lacked comprehensiveness and were inconvenient for quick access to information.
The ease of access to specific information was the biggest appeal for using online resources.
However, there are limitations to free online resources. Chemguide and LibreText were not syllabus specific and I had to spend considerable amount of time to filter through large volumes of text to find the syllabus relevant information.
Looking for all-in-one resources? Learnable is all you need to achieve a Band 6 in Chemistry.
Learnable is high quality, syllabus specific resources designed for students and teachers. Join 10000+ students who are getting ahead with Learnable. Try for free now.
Feature comparison
Textbooks
Free online resources
Learnable

Syllabus specific theory content

✓

?

✓

Regular content updates and improvements

✗

✓

✓

Interactive concept checks

✗

✗

✓

Customisable quizzes with instant feedback

✗

✗

✓

Real exam simulation

✗

✗

✓

Intelligent reporting for progress tracking

✗

✗

✓

Accessible via any internet enabled device

✓

(eBook version)

✓ 

✓
Learnable Education and www.learnable.education, 2019. Unauthorised use and/or duplications of this material without express and written permission from this site's author and/or owner is strictly prohibited. Excerpts and links may be used, provided that full and clear credit is given to Learnable Education and www.learnable.education with appropriate and specific direction to the original content.